Let's Make KINGYO CHOCHIN -Goldfish Lantern-
Only on 8/13, local high school students will happily help you in English!
Event Detail
Date: August 13, 2019 17:00~ *kits are Limited
Fee:¥800 ~ ¥1,000
The Origin of Kingyo Chochin(Goldfish Lantern)
Kingyo Chochin has been made by Rinzaburo Kumagaya using the ink for local traditional woven fabric "Yanaijima" in 1860s. The idea came from a popular festival "Nebuta" in Aomori.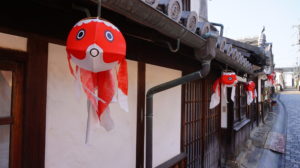 Where
There are 2 places you can enjoy making Kingyo Chochin.
The kits are limited, so hurry!
・河内山医院 駐車場
(Kouchiyama Clinic Parking)